Disclaimer
By posting in the Blue Eye Macro forums along with the activation of your license of Blue Eye Macro, you have agreed to follow the
rules
and abide to them at all times. Failure to comply will result a penalty varying from a warning, suspension, deletion of the offending article (via. Post, Signature, Avatar, Attachment, Etc.), ban, termination of your license and revoking the reneweal of the Blue Eye Macro license.
In addition, Blue Eye Macro's Staff will never ask you for your password. Your Blue Eye Macro ID must be kept PRIVATE at ALL TIMES. Do not post or display your Blue Eye Macro ID at any time except to Gigus through

PM ONLY

. You must update your profile to include your Blue Eye Macro ID in order to inquiry on your license problem.
The purpose of Blue Eye Macro (and the forum) is to dedicate its users with the tools and knowledge of efficiently working with the program. From user-made macros, to guides and various libraries/plug-ins. To the best of the community, the developer Gigus, the moderator(s) and its' users will diligently answer your questions to the best of our abilities. Realise that other Blue Eye Macro users volunteer their time helping out on the forums and that you respect them at all times. There will be times where the problem will have to be deferred to a different person, so it will take some time answering your question(s).
As long as you are
active
on the forums, learn how to work with Blue Eye Macro or contribute your macros, you
may
be entitled to a license extension provided that you follow the rules. For more information on licensing, click here:
License Information
Blue Eye Macro Forum Rules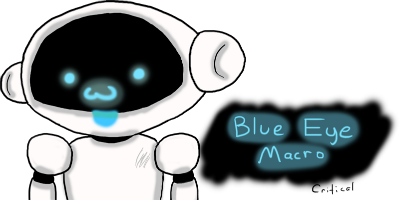 Important Links
License Information
Blue Eye Documentation
Questions you should NEVER ask
Is there a crack/pirated version for Blue Eye Macro?
(Seriously, guys!)
When will I be promoted?
When will the next update of Blue Eye Macro come out?
Private/Confidential Information on any users
Requiring assistance anywhere else besdies the forums UNLESS it's being offered to you. (Team Viewer, Messenger, IIRC, etc.)
Note: You will not be protected under Blue Eye Macro terms if you choose to get assistance outside the fourms. Any and all responsibilities outside Blue Eye Macro fourms is yours.
Contribution Point (CP) begging.
Safety First
-When creating a new username, make sure you do not associate it in anyway with your other (game) accounts. Whether it be your e-mail, or especially another username from a game for your own safety. Obviously, do not even post it on the fourms.
-Never share your Blue Eye ID or Password to anyone, not even to staff. Not even to me! I'm just a guy who wants to help out with macros.
-If for any reason you feel that your account is breached, please contact Gigus through his e-mail at:
gigus@me.com
and provide him your Username and the last password used. (This is an exception).
-When providing in-game screenshots, censor your own name and other names you want to protect. This is to save you un-necessary solicitors.
Global Rules
Note: They apply to ALL boards.
-Always respect your fellow members. They spend time out of their own lives helping you out.
-
NO ADVERTISING OR LINKING WARES IS ALLOWED. LINK SHORTENERS SUCH AS BIT.LY ARE NOT ALLOWED.
-This forum uses English as the primary language. Use Google Translate if English is not your primary language.
-This fourm is labeled as SFW (Safe-for-Work). Avoid caps lock, dirty talk, and avatar/signatures with inappropriate themes (pornography of any kind, extreme gore). Safe jokes are okay on the other hand.
-Using your own image (reaction) in a post is acceptable. Do not make them huge (generally speaking, 200x200 should be the limit), and do not spam them so much that it makes your post or the thread unreadable.
-Make sure the thread you're replying to is
ON-TOPIC
. You can make an off-topic gesture provided that you make an on-topic post to go along with it.
-When posting a macro (whether it be yours or someone elses),
PLEASE
use the code tags and paste your code inside them.
Code:
Yes, post your macro inside the code tag!
-When referencing others' macro/information,
ALWAYS
credit them.
-Use constructive critism when correcting other users. Do not simply say 'YOU ARE WRONG'. Instead, say 'You should use this instead'.
-Impersonating another user is
NEVER
allowed as well as frowned upon within the community.
-Trolling/Flame Wars whether it's within your own thread or someone else's is not allowed.
-Avoid double-posting unless you are bumping the thread pertaining to important updates/news/information (Example: Macro Update, Macro Progress, Notice of Departure, etc.)
-Always check the date of the Original Poster's thread.
Avoid necro-posting / necro-bumping UNLESS the exact problem arises within the Original Poster's thread. Otherwise you are creating clutter on the board, bumping outdated information.
-You gain 6 Contribution Points (CP) for each post.
Contribution Point Soliciting

is forbidden. That means going over various threads and replying to them with very short, meaningless replies.

Spamming by any means is not tolerated, either.

If the post(s) violates any of the mentioned rules, it may be deleted and you lose those points.
Repeat offenders will be surprised to see their CP value go down below zero and a ban may be issued.
The same rules apply to THANK YOU'S. Don't make multiple accounts and spam them, this is very easy to track through our logs.
-Regarding Macro Safety and Exploits, this is very important so read the following:
- THE MACROS / PROGRAMS / TOOLS / CODES YOU CREATE AND POST WILL NOT HARM OR HINDER OTHER USERS' COMPUTERS OR DATA (WHICH INCLUDES DELETING A CHARACTER'S PROGRESS IN A VIDEO GAME/MMORPG OR HINDERING IT'S PROGRESS) IN ANY FORM.
- ANY TIP, HACK, PROGRAM, OR EXPLOIT (ASIDE FROM CHEAT ENGINE MEMORY POINTERS) INVOLVED THAT WOULD BE EXTREMELY GAMEBREAKING IS FORBIDDEN IN THE PUBLIC FORUMS OF BLUE EYE MACROS.

Blue Eye Macro Users are humble and will swear not to discuss gamebreaking exploits in the public forums.
Signature and Avatar
-Avatars can be up to 120x120 and no more than 50kb (A Holiday Bonus~) Allowed formats: .jpg, .png, .gif.
-There is a limit of 200 characters in a signature (including tags)
-Signature pictures can be up to 800x200 and no more than 1000kb.
-Signatures that include a picture can only have three lines of text.
-Signatures that do not include a picture can have up to five lines of text.
-The system automatically caps the amount of text in your signature to 250 characters.
-Once again, reminding you that both the signature and avatar must be Safe-For-Work.
Posting
Where to Post
-Questions involving Blue Eye Macro in general goes to
Ask a Question
-Questions involving specific Blue Eye Macro commands/uses goes to
General Support
-Feedback/Suggestions for improving Blue Eye Macro goes here:
Request a Feature
-Reporting Blue Eye Macro bugs goes here:
Report a Bug
-Questions involving specific macros should be directed to the respective thread. (Example:
Game Macros
have sub-sections)
-Feedback/Testing your code should be directed either in the
General Support
or if it's a
Game Macro
, to the respective game's 'Support' sub-thread.
Macro Requests can be made in the following sections:
General:
Ask a Question
New Games:
Request new games here
Existing Games: Go to the respective game's 'General' board and make a request there.
How to Post
-Post in
ENGLISH
. That's the board's primary language.
-Punctuation, Grammar, Sincerity, and the English Language are your best friends.
-Thorougly explain what your post is about when you create the thread.
-
None of this 'First!' and 'Bump LOL XD' business. Automatic post deletion. This is not Youtube.
-Make sure to use the proper tags whenever possible. URL tag for links.
CODE tag for posting your macro/code.Posting a Troubleshoot/Ask a Question thread
-If your program does not seem to register the mouse and keyboard inputs from BE, make sure to install the Virtual Drivers (Available inside BE Settings). Restart your computer, select them as the chosen input method, then try again.
-Make sure the macro focuses the cursor on the desired program you want to operate on before trying again.
-If that fails, use the search feature
FIRST
on the forum before posting your question to see if your problem is already solved.
-After checking that, you may then post the problem if your problem does not exist.
When you make your thread, make sure you do the following:
To the best of your ability, thoroughly explain the problem you are having.
Include screenshots whenever possible and the steps you took in arriving to the problem.
List additional programs you were using Blue Eye Macro with.
Game Macros
Sub-Categories
Macros / Bots / Tools is reserved for user-created macros and troubleshooting of said-so macros. Please do not make a new thread and ask for help. New threads must showcase a macro you want to contribute to the forums.
Exploits / Cheats is reserved for Cheat Engine memory pointers, glitches, and illegal ways of exploiting gameplay. These exploits should be minor only.
Guides / Hints is reserved for guides and hints for that particular game.
Support is meant to ask any and all questions concerning how to work/script/create/troubleshoot macros along with getting Blue Eye Macro to work with your current game. This is your go-to guide to ask for help here! DO NOT SEND MACRO REQUESTS THERE.
General is a catch-all. All your questions related to the game itself go here as well as testing/providing feedback for your macro creation before releasing it under Macros / Bots / Tools. Requesting macros to do specific tasks are allowed in this section. You can even discuss about server activities and the game itself!
Third Party Program Policy
Program / Tools
-If you want to showcase a program/tool you made yourself (or found), make sure you do the following:
Describe how it works with thorough instructions.
If possible, provide screenshots of your program working in action (a video works better, but not required)
Post a md5 sumcheck and a VIRUS SCAN! You can use an online tool here.
Provide the link or attachement to download your program/tool.
If you do not follow all of the requirements (especially a Virus Scan), your post will be edited/locked/removed depending on the hazard of the file.
In addition, if you forge a false virus scan and later a user reports proof with the real virus scan results showing positive (and harming their computer), it will be an
AUTOMATIC BAN
.
Here is a good example of going about to posting at thread like this
here
.
Posting your Macro Creation
The macro thread
MUST
contain (in order):
It must be posed in the appropriate sub-section (Example: If it's an Eden Eternal macro, it better be there!)
Appropriate Thread Title (Make it Short and Simple)
Brief explanation of what the purpose your macro provides
Requirements before using the macro (Example: Virtual Drivers, Using a Pre-existing Macro, Plugin, .dll, etc)
THOROUGH Instructions (from start to finish). How to use it. Specific variables the user needs to know/fill in, etc.
Post the source of your code/macro (and don't forget to use the code tags).
If you fail to pass any of the requirements, you will be notified to edit your thread with specific details in addition to assisting you (posting in the wrong section, adding code tags, etc.)
To create a quality post, it is highly recommended that you include:
-Screenshots explaining the details of your macro
-FAQ Section
-Attachments that are relevant to your thread:
.bem attachment of your code/macro
.txt file of instructions
Image attachments for the 'Image' codes (.jpg/.gif/.png)
.zip files for complex projects
If you have difficulty typing up your thread in English and require assistance, you may PM 'Critical' with the title 'Thread Revision' along with a copy of the entire thread.
Keeping your Macro Updated
-Communicate on the thread. The users will look at you when their macros 'do not work'.
-While you are not obligated to have to stay on the forums 24/7, let users know when you'll be away for an extended period of time.
-When updating, bump your thread with the message that you've updated the macro.
-
EDIT
your original post to contain the latest macro source/version.
-It is recommended to backlog your older versions in the post (unless the previous source was not functioning or you know what you're doing)
-Version numbers are optional, but not required. (This is to keep track and label the various updates of your code)
If you are stuck on how to showcase your macro on a thread, here is a general template for an Easy Macro Creation Thread. Though, create your own layouts just as long as it's neat and tangible.
Code:
[u]Purpose[/u]
//Fill in information here
[u]Requirements[/u]
//Fill in information here
[u]Instructions[/u]
//Fill in information here
[u]FAQ[/u]
//Fill in information here

//Insert your code below, make sure to add code tags!
Frequently Asked Questions
To Post or Not to Post?
-If you are not sure where to post or if your post breaks any rules, please PM a Moderator online about this and explain your situation (Critical or Syrifina. Gigus if it's still not resolved).
-If you know the post complies with the rules but if you're not sure where to post it, go ahead and post where you think would be appropriate and either of us will move it to the appropriate board if it's necessary.
Regarding Username Changes
When creating a new username, make sure you do not associate it in anyway with your other accounts, whether it be your e-mail, or especially another username from a game for your own safety. In the event your name files under inappropriate username or your username is named after a character you made from "XXX" game, PM Gigus, Critical, or Syrifina (whoever is active will do) IMMEDIATELY with the title "Name Change Request" and the name you'd like to change into.
Credits
Rule Creation: Critical
Draft Revision: Gigus, Critical
Special Thank You for taking a glance: Syrifina, vans78, and Martin
A special thank you to everyone on the forums for allowing me to assist you further with your macro creations. It's the dynamic community that made me call this my home. I grew with you guys, and now I am ready to further assist you as of Tuesday, October 25th.